An alleged bitcoin scam is now rampant and targeting people. The scammers are tricking people through text messages, saying they have won a bitcoin jackpot worth thousands of dollars. This new trick, like other scams, seems to be tipped to rip people off their hard-earned money ultimately.
The scam text message reads:
"You have won 999,000 USD on Bitcoin Jackpot. For your prize, contact us with your ticket No: BTC/O7200/20 on Email at award8621@gmail.com."
Multiple complaints
According to the reports and data that PrivacySavvy.com collected, almost all messages sent have the same text. And in 90% of the emails, the email ID given by the scammers for getting in touch is the same as above. That tells the scammers are mass-sending these messages to users on different carries worldwide.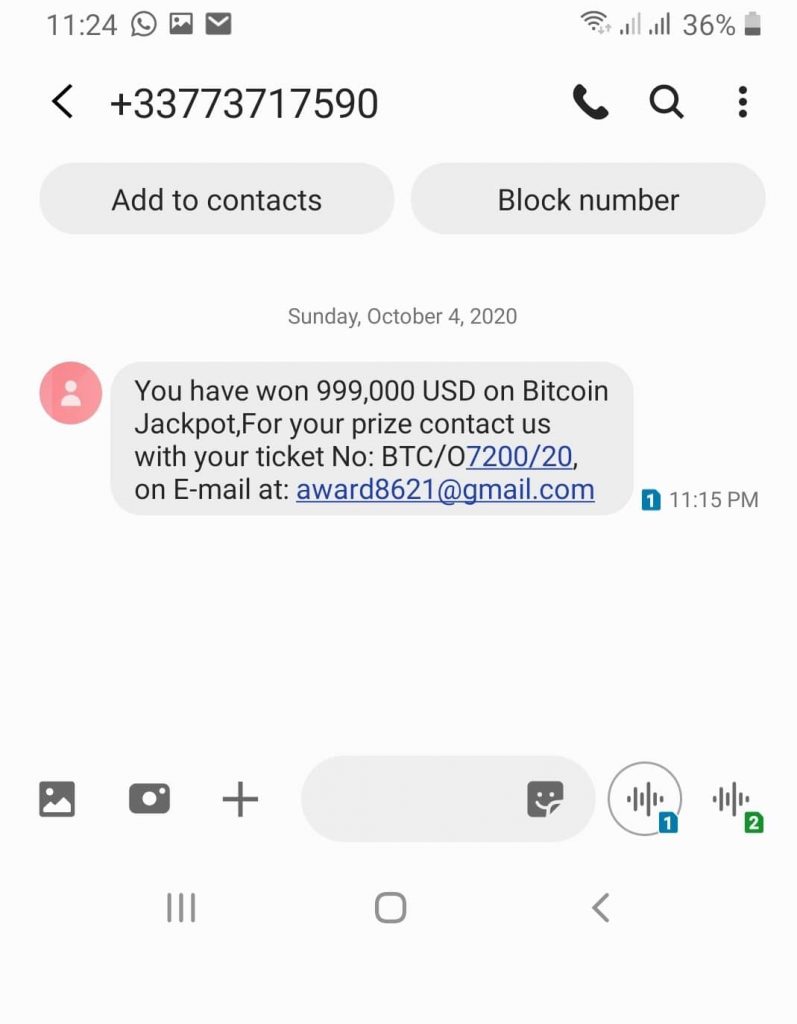 These bitcoin jackpot scam messages have been repeatedly circulated multiple times during the last seven days or so. People in multiple countries have received these messages, but Pakistan, India, Singapore, Hong Kong, and Bangladesh have been bombarded most with texts so far as per our sources.
Text message scams becoming widespread as people trust their mobile phones more
These bitcoin scam text messages are supreme examples of how cyber scammers build a plot to lure victims. But many people are likely to be ripped off their hard-earned money because these are sent on their mobile phone instead of their email inbox.
When people get a text message, they implicitly trust their device more because they don't expect cybercriminals to be sending SMS' with links to scams.
Globally, millions are lost through text message scams that come in the form of jackpot or bitcoin investment these days (in the way of Ponzi schemes) that seem too good to be true.
Last year, ABC reported that tens of thousands were stolen from a couple through a bitcoin investment scam. The couple thought they had hit the jackpot through a bitcoin investment; they tripled in six months. They showered more money into the scam crypto trader that came as Coinexx.org and had great returns, but later they got scammed ultimately.
With smartphone use rising amongst all around the world, scammers' new battleground is firmly at the palm; hence, it is essential to exercise caution with bitcoin jackpot and other potential scam texts like this.
Tips to stay safe from crypto scams (right from the mouth of an infamous cybersecurity expert)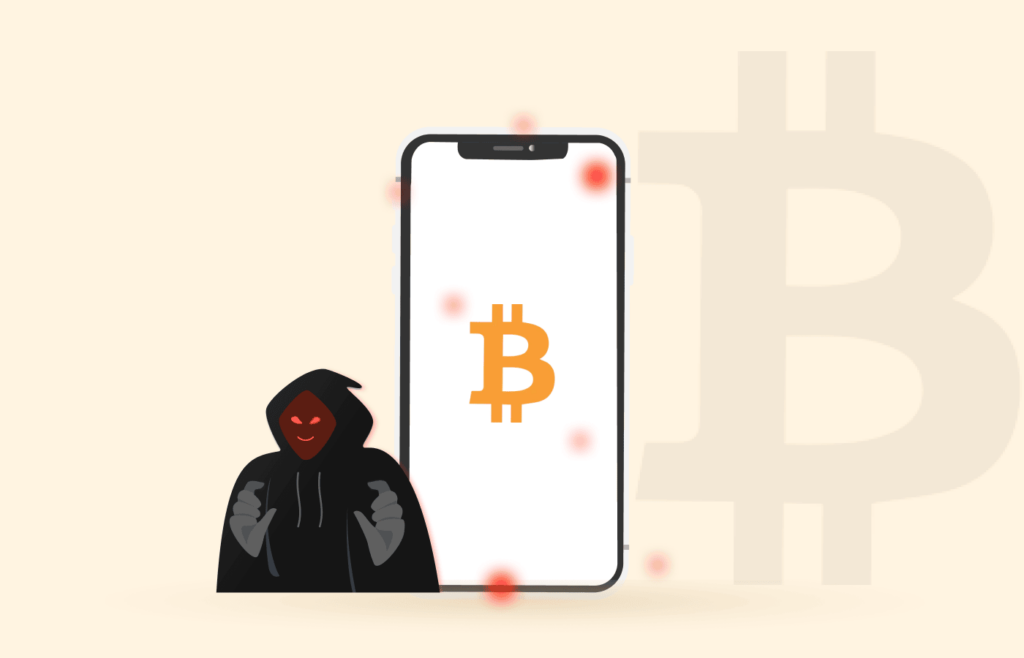 It isn't your bank details hackers want (even though that is profitable for them), your identity is what they desire the most these days.
Very few people know that identities are tradable information on the dark web. Email address, home address, date of birth, and so on can make a hacker rich.
So if you receive a bitcoin lottery or jackpot text, the best thing you can do is ignore and delete it from your phone immediately. Also, look out for short URLs (if any), which are shining clues that the text is linked to scam.
We reached out to Pierluigi Paganini, an Italy-based renowned cybercrime analyst, security specialist, and EC Council London Ethical Hacker, to comment on cryptocurrency scams and some ways to avoid them. Below is what he had to say:
"There are different types of cryptocurrency scams, from online chain referral schemes to fake investment and business opportunities. A common characteristic of cryptocurrency scams is the request for a payment sent by scammers to the victims either at the beginning or end."
Paganini further added,
"For this reason in order to avoid crypto scams, it is essential to ignore any unsolicited message received via mail, over social media, or instant messaging apps, that request the payment of a specific amount of funds."
He then adviced,
"Fraudulent messages attempt to deceive the victims by promising victims could quickly earn money. Other scams leverage rogue websites that look identical to the one the users think they are visiting. Let me suggest you to carefully type the exact URL into your browser and double-check the sites before providing personal and financial data."
The founder of Security Affairs continued,
"Watch out also form fake apps available for download through the official Google Play and the Apple App Store. The apps are easy to spot because they usually have a low number of downloads or in alternative a high number of downloads but with a lot of negative feedback."
He also cautions to be careful of crypto swapping malware that could be used by threat actors to hijack the transfers of crypto coins by replacing wallet addresses as the users type them into their browser.
As per Paganini's encounter and tests on numerous such malicious programs, the malware replaces the legitimate recipient with the address of a wallet under the control of the attacker. To avoid this family of malware he recommends installing an anti-malware solution on your system and keep your device up to date.