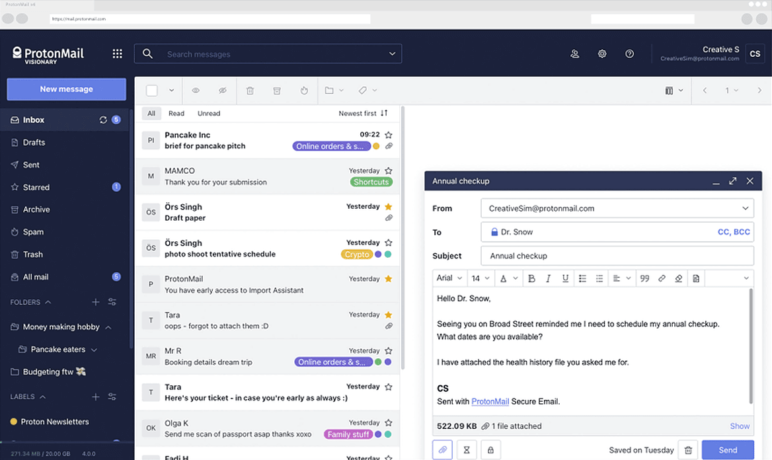 ProtonMail is a webmail platform offering encrypted email services for its users.
The platform is now updated with a new look that improves usability and facilitates access to other services.
Privacy awareness is rising, and so is the demand for privacy-oriented services such as Proton's email service.
Protonmail is a relatively new secure email service based in Switzerland that offers full encryption to its users. Even better, the emails between the rapidly growing platform's users are encrypted end-to-end so that even the system can't decipher those messages. Protonmail's parent company believes that offering the world an encrypted email option is a public service. The fact that it's based in Switzerland is also good since the alpine country is friendly towards privacy and anonymity.
Protonmail has a new look. The website's design is refreshed. The newly added features include a cleaner, more intuitive look, more customization, and many dark and high-contrast themes. And with the new update, ProtonMail V4, the service has improved access to services other than secure emails, such as cloud storage, a VPN, and a calendar.
The site has been around for seven years already. It has already hit the 50 million user milestone. Privacy awareness and adoption have moved forward considerably over those seven years. Usability has improved markedly, so adoption has also grown more.
The Swiss email service aims to make high-quality privacy emailing available to the masses. PGP, for instance, is an encryption method you can use with your standard email client (say Thunderbird, for example). Still, installation and usage need a degree of expertise beyond your average email user.
ProtonMail includes PGP out-of-the-box because it's fully integrated. Hence, the end-to-end encryption gold standard becomes free for every Protonmail user without installing additional software or configuration.
Given the service's utility, the new look is slick and superficial. That being said, a prettier interface can increase the attraction of new users who want a more private email service and a friendly environment to feel at home using it.
Proton is also working on the creation of an entire encrypted ecosystem. A suite of productivity tools in which all your activities are encrypted is becoming available and cross-promoted to webmail users.
Why Proton can afford to be freemium
ProtonMail is freemium (there is a free service, but the best features are reserved for users who opt for a paid service.) Privacy enthusiasts hate freemium things. But Proton has spent years prioritizing privacy engineering, which is why it has the credibility to offer a freemium option that the industry can still respect.
An exciting new feature in the web app is the app switcher that enables users to switch quickly between other services, such as Proton Calendar and Proton Driver (a cloud service featuring E2E encryption still in the beta stage).
Indeed this feature will allow many Proton users to discover the platform's full potential, as many of them are aware only of the email service.
Proton also offers a VPN service. But the VPN's architecture is not the same as the other services provided by the company, so if you are interested, you should first read the small print so that you can understand if the Proton VPN is for you and if it's up to the high standards that Proton enthusiasts have come to expect from the company's services.
Other new tweaks in the new ProtonMail interface include new keyboard shortcuts so that checking messages and applying filters and sorting is a quicker process.
The platform includes an Import Assistant. This feature became online last November after it cleared its beta stage. The assistant helps new users to transfer their messages from their prior webmail provider, thus facilitating ProtonMail adoption.
The abuses against privacy incurred by Facebook and other tech giants during the last few years have increased public awareness about online privacy, thus driving the adoption of privacy tech. Fortunately, accessibility and usability keep pace with the public interest so that any user interested in adopting encrypted email services can do it.
As things stand, it seems the company behind ProtonMail, Proton, is well-positioned to take advantage of the general new interest in privacy.